Debbwl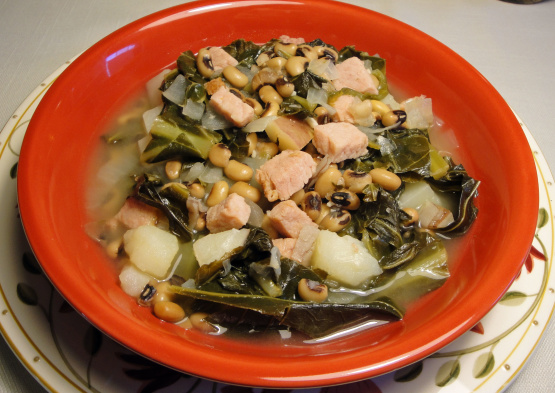 This is as Southern as it gets. But the recipe is made quicker by using canned products and prepackaged greens. For New Years, substitute black-eyed peas, and you'll have your green and peas tradition! Serve with nice thick slices of cornbread.
1

(16 ounce) packagefresh collard greens, chopped

2

lbs ham steaks, chopped

2

tablespoons hot sauce

3

tablespoons olive oil

3

medium onions, chopped

2

garlic cloves, minced

6

red potatoes, diced

3

(14 1/2 ounce) cans chicken broth (you can use your own stock if you'd like)

2

(16 ounce) cans field peas, drained

2

(16 ounce) cans crowder peas, drained

2

cups water
1⁄2 cup vermouth

1

tablespoon white vinegar
1⁄2 teaspoon salt
Bring collard greens and water to cover to a boil in a large Dutch Oven. Remove from heat; drain. Repeat the process if you are boiling in batches.
Toss together the ham and hot sauce; cook in hot oil in the Dutch Oven over medium-high heat 8 to 10 minutes or until browned (while the collards are draining). Add the onion and garlic; saute until tender.
Stir in greens, potato, and remaining ingredients. Bring to a boil. Reduce heat; simmer, stirring occasionally for 45 minutes.