A yummy, chocolaty custard. From taste of home.
Make and share this Pot De Creme recipe from Food.com.
Directions
In a small saucepan, combine the egg, sugar and salt. Whisk in cream. Cook and stir over medium heat until mixture reaches 160 and coats the back of a metal spoon.
Remove from the heat; whisk in chocolate chips and vanilla until smooth. Pour into small dessert dishes. Cover and refrigerate 8 hours or overnight. Garnish with whipped cream if desired.
Reviews
Most Helpful
This was so rich and creamy! I can see why it is recommended for 5 servings. We divided into two portions and it was really filling, so next time i will serve this in a tiny cute cup on the side of some other light dessert which ive seen done in fancy restaurants (top chef) We loved it, thanks for posting!
Definitely not on the low fat diet! Still delicious. I would recommend the addition of about 1/4 teaspoon instant coffee to the saucepan at the start. This will just take the edge off the sometimes cloying taste of plain chocolate. Unless you have VERY small ramekins, you might want to double the recipe as well.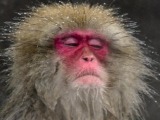 Perfectly elegant hit of chocolate, but not too much, just right. I LOVE how easy this dessert is, but yet so decadent...you think there is fancy chocolate in it, not choc. chips! Thanks so much for posting, this is my new go to dinner party dessert