~Nimz~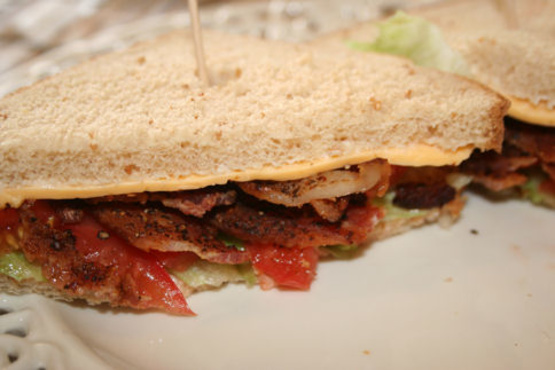 Recipe by Poss
I first made these just before Thanksgiving, and for my first foray into BLTs, the family said I did a pretty good job! This isn't *exactly* how I prepared them -- I added a LOT of black pepper to the bacon, as well as a generous helping of "Dinosaur BBQ Cajun Spice Rub" to it (we tend to like our bacon a bit spicy!); I also used different amounts of mayo and different kinds of cheese depending on who I was making the sammiches for. The bread I used wasn't the usual loaf of "Wonder Bread"-ish bread, but a loaf of that rectangular-shaped multi-grain bread. Experiment with the bread, the cheese, and how much & what kind of spices to add to the bacon.
Fry package of bacon in a large skillet at medium to medium-low heat.
Add a dose of black pepper to the bacon as it frys.
Prepare each sammich as follows: Add 1 tsp of mayo to each slice of bread; Add one large lettuce leaf to 4 of the 8 slices of bread; Slice each of the 2 tomatoes into 6 slices, and add 3 slices to each piece of lettuce; Add 3 slices of bacon on top of each helping of tomatoes; Add 2 slices of cheese to each helping of bacon; Add the remaining pieces of bread to make the sammich.
For presentation, slice each sammich into halves, add a toothpick to each half, and serve with a dill pickle, potato chips, macaroni salad, or whatever the family tends to like.
Enjoy!