Bergy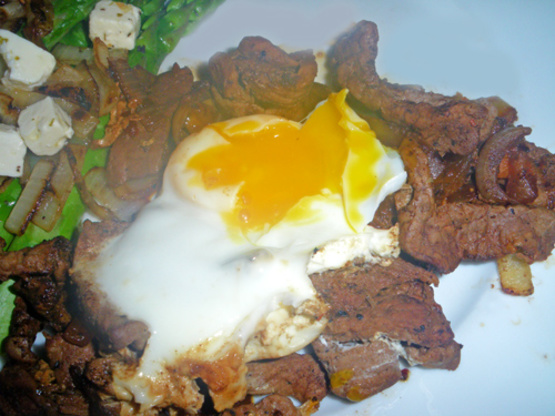 This is a great dinner, you can have with an egg on top with home fries, pour some of the sauce over the fries, it's very good. and some warm bread. Yum Yum. enjoy.

Top Review by Bergy
This is a hot and spicy recipe just the way I like it. The trick with this recipe is to keep the egg on the steak while it cooks! (just joking but it does want to slide off) The combination of spices gives wonderful flavor to the meat. I marinated it for 8 hours. Thanks Graybert for a recipe I will definately make again 7 April 2010 This time I cut the steak to stir fry size - The egg stayed very nicely. Delicious. I don't know who to than Graybert or Anna but I enjoyed the recipe
Marinate steaks for 6 hours, in large skillet fry steak and onions together, after 20 minutes, pour marinade in skillet, cook until absorbed.