Portuguese Sofrito Bread (A B M)
MomLuvs6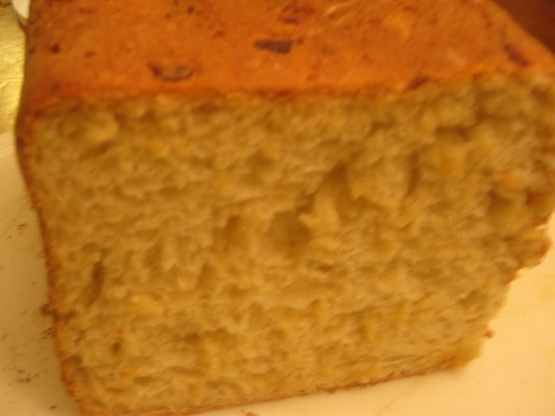 Based on a recipe from Madge Rosenberg's delightful cookbook, The Best Bread Machine Cookbook Ever – Ethnic Breads. She says, "In Portugal, slowly sautéed onions are called sofrito, a deeply flavored beginning, or base, for dishes with rice or potatoes and for stews. The Italian soffritto adds herbs and celery; the Columbian adds annatto seeds. With roasted meat or chicken from any country, pass this Portuguese sofrito bread, or make an open-faced grilled cheese sandwich to remember." The default measurements are for a small 1 pound loaf; I have placed measurements for a large 1 ½ pound loaf in parentheses. I listed 4 hours as the bake time; your bread machine may have a quicker basic bread cycle. NOTE: be sure to use cooked rice! I haven't tried this yet.

Mad in ABM and followed the directions as listed. A really differant in a good way bread with a texture more like a quick bread to me with just a hint of the onion that made it special. It had a slightly grainy texture from the cornmeal that I found pleasant if diffrant, and heavier than most yeast breads I've made. My only issue with it was that it seemed to fall on top after baking but that only affected the appearance and not the flavor. It was enjoyed by my entire family. Made for SWT 2012 Portuguese section.
Cut onions into ½-inch dice. Saute slowly in olive oil until translucent and barely golden, about 15 minutes. Set aside to cool.
Add all ingredients including the sautéed onions to your bread machine in the order recommended by its manufacturer, and select the bread cycle.