Portuguese Shrimp and Scallops
Derf2440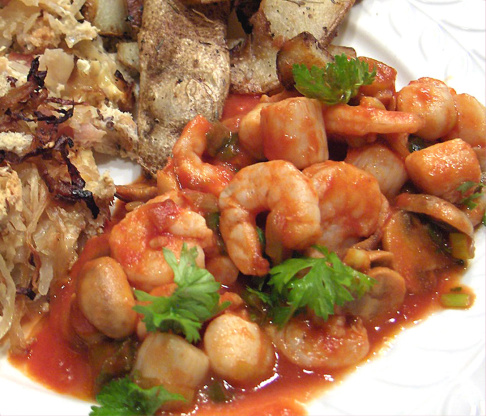 An easy meal for family or company. I usually serve over rice.

This is a dish that makes me proud to be Portuguese!!! I always serve it over Basmatti Rice and everyone loves it. I have brought it to many potlucks and I always get asked the recipe
Melt butter and oil in a large skillet over medium heat.
Add garlic and saute for one minute.
Increase heat to high and add mushrooms. Saute until done.
Add tomato paste and stir.
Add wine and lemon juice and bring to a boil.
Add shrimp and green onions. Cook one minute, stirring constantly.
Add scallops and cook 3 minutes or until scallops are opaque.
Season with salt and pepper and garnish with parsley.