Rita1652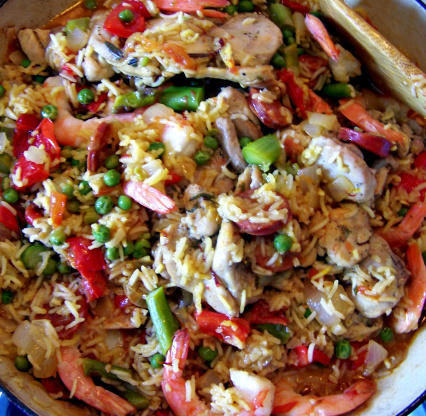 I love the blend of flavors in this dish. This is a hearty one dish meal. The secret spice is the Saffron. Saffron is expensive, but you must add it or the taste of authentic Paella is lost.

This is an excellent dish. I've made it three times now; once as the serving for six and twice for larger parties where I had to transfer to large casserole pan because of tripling the recipe. Here is something I don't understand but noticed the first time I made this and corrected the cooking time: the uncooked arborio rice requires far more cooking time than 16 minutes (10 minutes plus the 5 after adding shrimp). No one else seemed to have this noticed so what have I missed? After adding the rice, I cooked for 3-4 minutes (vs 1 minute), then added 1 cup of chicken stock and cooked until it was absorbed before adding last 2 cups, combining with meat and transferring to the oven. I then found I had to cook for 20 minutes vs 10 for the rest of stock to be absorbed and the rice softened. I would also use 1/2 teaspoon of saffron for 6 serving size.
Preheat oven to 400 degrees.
Sprinkle chicken with rosemary, 1/2 teaspoon salt, and black pepper.
Heat oil in a large oven proof nonstick skillet or paella pan over medium-high heat.
Add chicken; cook for 3 minutes on each side or until lightly browned.
Remove chicken from pan; cover and keep warm.
Add chourice and cook until lightly browned;.
Add onion and bell pepper; cook for 7 minutes, stirring constantly.
Add rice, tomato, paprika, saffron and garlic; cook for 1 minute stirring constantly.
Return chicken to pan.
Add broth and 1/4 teaspoon of salt; bring to boil.
Wrap handle of pan with foil, cover pan;.
Bake at 400°F for 10 minutes.
Stir in shrimp, asparagus, and peas.
Cover and bake an additional 5 minutes or until shrimp are no longer translucent.