brchin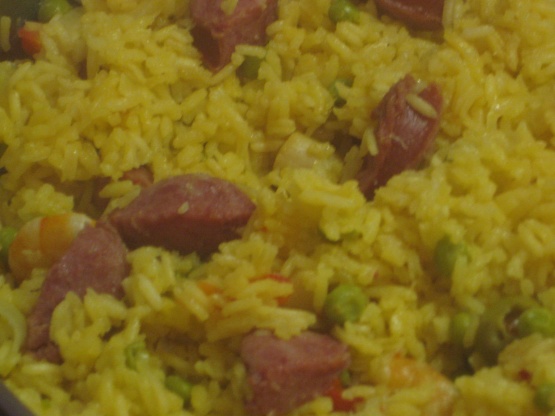 Years ago I was married to a Portuguese girl for 12 years, and this is a dish her mother used to make.

FABULOUS!!! I think the white wine is what is giving this recipe an edge over any other one I've found before. I made it for Christmas at home and got rave rave reviews.
This is a MUST TRY recipe. Do it with whateve you have at home.. that is the beauty of paella!!
Rinse chicken pieces and pat dry with paper towel.
Season with salt and pepper. Saute chicken and ham hocks in 1/4 cup of olive oil until golden.
Remove chicken, leaving ham hocks in pot, and saute garlic, onion and rice for a few minutes.
Add chicken back to skillet on top of rice. Tuck in seafood and sausage.
Add chicken stock or broth, wine, saffron and bell pepper. Cover and simmer 20 minutes.
Sprinkle peas on top, and cover again and continue to cook an additional 10 minutes and serve.