Ashley Cuoco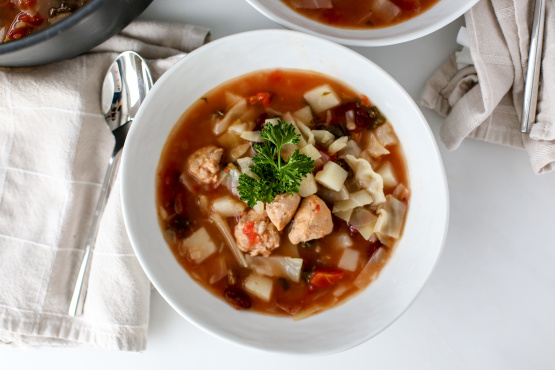 DH and I have been going to a little place called Cafe Rio for years. About the only thing we ever order there is Portuguese kale soup. I have tried to duplicate the recipe for several years and this is as close as it gets. The linguica sausage is a must.

Top Review by Anacat
Even though I couldn't find the linguica sausage, this turned out great. Spicy and flavorful!
Wash kale under running water.
Strip from tough stem, coarse chop and set aside.
In the food processor, using the medium shredder blade, shred cabbage, drain and rinse beans.
Heat the olive oil in a large stock pot, add sausage, chopped onion and minced garlic.
Cook, stirring occasionally until the onion is transparent.
Add remaining ingredients, bring to a boil, reduce heat and simmer for about 45 minutes to 1 hour.
Adjust chicken stock as needed for desired consistency.
Add salt and pepper to taste, remove bay leaf and serve hot with a coarse bread.