Portuguese Honey, Spice and All Things Nice, Fruit Bread.
Nasseh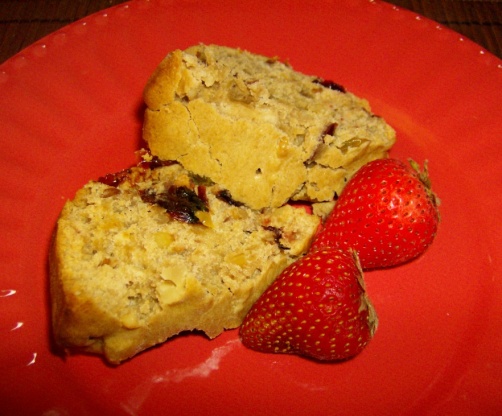 This recipe is for a Portuguese bread containing cranberries, candied fruit, nuts and port... has been adapted from Gourmet. Special equipment: 6 (6 by 3 1/4 by 2 inch) metal loaf pans of(2 to 2 1/4 cup capacity) Note: this bread keeps, wrapped tightly in plastic wrap and then foil, at room temperature 1 week. I haven't made this yet myself, but would appreciate feedback greatly if you make it before I do. ZWT REGION: Portugal.

Top Review by Nasseh
This is an easy tasteful bread recipe. I did cut the recipe in half (except the cinnamon) because I did not need or want that much bread. It easily made a Bundt size bread with half the recipe. I couldn't find candied fruit so I used a cup of dried mixed berries containing cherries, blueberries, cranberries, & golden raisins. I substituted raspberry juice for the port wine since I don't use wine in my cooking. I simmered the berries in 1/2 cup of the juice so they would plump while cooking. The bread took around 45 minutes to cook in the Bundt pan. Great recipe, my family & co-workers loved it.
Put oven rack in middle position and preheat oven to 325°F (160 C).
Butter 6 (6 by 3 1/4 by 2 inch) metal loaf pans. (2 to 2 1/4 cup capacity)
Put cranberries, candied fruit, and Port together in a small saucepan and heat until it simmers. Remove from heat, cover and set aside.
Coarsely chop walnuts using a food processor then add the flour, salt, baking soda and spices and pulse just enough to combine.
Cream together the butter and sugar until pale and fluffy, and then add the eggs 1 at a time, beating each in well.
Stir together yeast and warm water in a small bowl and let stand until foamy, about 5 minutes. If your mixture doesn't foam, discard it and start over with new yeast.
Starting with one and a half cups of flour mixture added to butter mixture and mixing with an electric beater at low speed . add each of the following and combine after each addition : molasses, then another one and a half cups of flour mixture, then the yeast mixture, the final one and a half cups of flour mixture. Then hand stir in the candied fruit mixture.
Divide batter among pans, smooth the tops. You don't need to let the batter rise.
Bake for about 50 to 60 minutes or until a wooden pick or skewer inserted in centers of loaves comes out clean.
Cool in the loaf pans on a rack for about 10 minutes, then remove loaves from pans and cool completely on rack.