Portuguese Fried Potatoes / Batas a Portuguesa
Shelby C.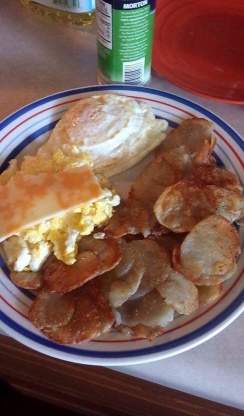 After looking though 108 Fried potato recipes and seeing none that contain parsley, but no onions, I thought I would post this typically Portuguese version of fried potatoes. The mixture of oil and butter keeps things from burning, but for health reasons I usually use less of the butter. I allow between 30 minutes and 1 hour cooking time to get a more even colour that slower cooking gives and depending on the variety of potato used.

The correct spelling is Batatas à Portuguêsa.
Slice the peeled potatoes into thin rounds, about 5- 10 mm (approx 1/4 inch) thick.
Heat the butter and oil in a pan and cook the potatoes slowly on a low heat until cooked though and golden brown. ( this can take 30 minutes to 1 hour depending on the type of potato used).
Cooking on a low heat ensures an even golden brown colour and less little burnt bits.
Once cooked though, add the salt, pepper and parsley and mix well though the potatoes.
Transfer to a heated serving dish and serve immediately with additional parsley for garnish if desired.