Portuguese Corn Bread for the Bread Machine (Broa)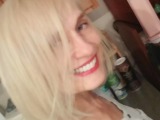 Based on a recipe from Madge Rosenberg's delightful cookbook, The Best Bread Machine Cookbook Ever – Ethnic Breads. She says, "Light, grainy broa partners chili or a spicy stew or thick soup. Smear a fresh or toasted slice with butter or soft avocado and/or tomato, or ladle a fish stew over toasted broa." The default measurements are for a small 1 pound loaf; I have placed measurements for a large 1 ½ pound loaf in parentheses. Your bread machine may have a basic bread cycle much quicker than the 4 hour one I reference under the cook time. My photo shows it buttered with honey.
Directions
Stir cornmeal into ½ (or 3/4) cup of the cold water until lumps disappear.
Add all ingredients to your bread machine in the order recommended by its manufacturer, and select the bread cycle.