Portuguese Coriander Soup (Sopa De Coentro)
Parsley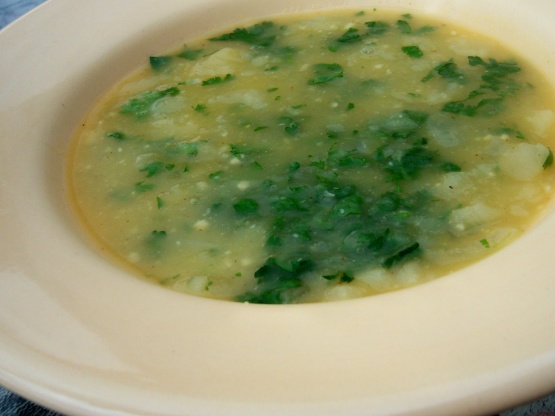 There is no point to making this soup unless you use fresh cilantro. This soup is usually pureed and served as a cream soup, but you can leave it chunky for a more rustic presentation. Adapted from Worldwide Recipes.
4

tablespoons olive oil

2 -3

onions, chopped

2 -4

garlic cloves, finely chopped

6

cups chicken stock

3 -4

medium potatoes, peeled and coarsely chopped
salt & freshly ground black pepper

1

cup chopped cilantro (coriander leaves)
Heat the oil in a large pot over moderate heat and saute the onion and garlic until tender but not brown.
Add the stock, potatoes, salt, pepper, and cayenne and cook until the potatoes are tender, 20 to 30 minutes.
Puree in an electric blender or food processor or press through a fine-mesh strained if desired.
Serve hot or cold, adding the coriander immediately before serving.