Portuguese Chicken Casserole
Sageca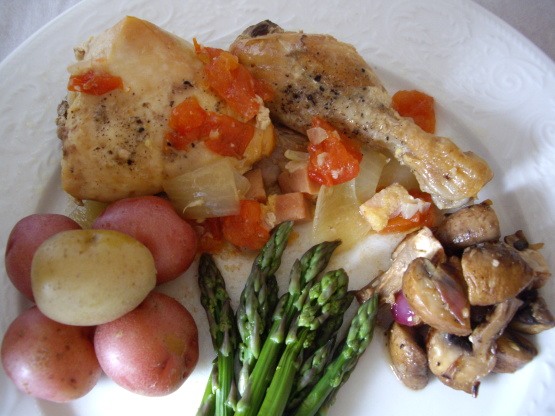 This recipe was found in The Good Cook Poultry The cookbook editors credit the recipe to Shirley Sarvis, A Taste of Portugal.

This was so very good! The smell of it cooking was amazing. I cut my chicken (boneless skinless breast) into bite size pieces and I think next time I will use thigh pieces or tenders. The cooking time was a bit too long for the pieces. Next time I think I would mix together the mustard, wine and port before adding it to the pan and then pour it over the garlic tomatoes and chicken. Also, we loved the flavor of the sauce next time I will make some more in a sauce pan and reduce it down a little bit with some flour and butter to make it a bit thicker. Thank you very much!
Preheat oven to 350F.
In a casserole, combine tomatoes, ham, onions, mustard, garlic, wine and port.
Season chicken pieces with salt and pepper then arrange on top of tomato mixture in a single layer.
Dot with butter.
Bake in preheated oven for 1 hour or until chicken is browned and tender.
Sprinkle with brandy.
To serve, spoon sauce over chicken.