Portuguese Bean and Garlic Omelet
KateL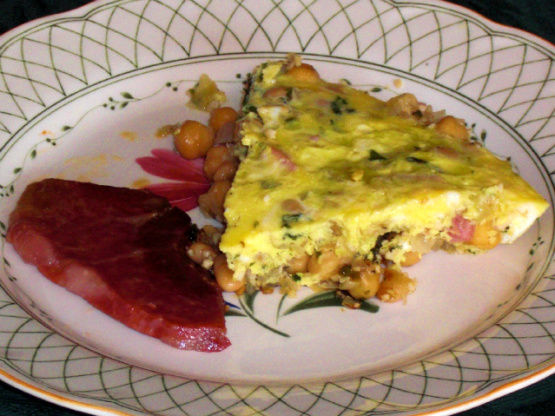 I have not made this yet but plan to in the future...... It came from World Health Circle of International Cooking.

Top Review by KateL
Very different omelet, and so filling, we could only eat a 1/6 pie wedge. I had bought some Jamon Iberico (Wegman's was out of Serrano ham), but at $58/lb its acorn-infused tangy flavor was best showcased as a pan-fried side; I used Virginia ham inside the omelet. I gave this 5 stars as exemplifying Portuguese cooking and tasting great (I am very fond of fiber-rich beans), but DH (not a lover of white beans) gave 3 stars because there were too many beans proportionately for him. I used a mixture of garbanzo beans and great northern white beans. Bean lovers, the Portuguese treatment of abundant olive oil, garlic, beans and cilantro is a wonderful taste experience. It is very filling; I couldn't eat 1/4 of this omelet for breakfast. I will try reheating wedges during the week. By the way, the Jamon Iberico was divine, but I think it shows off better in thin slices wrapped around a tapas bite, such as Recipe #369822 #369822. Thanks for sharing this recipe, kellychris. Made for ZWT5 in Spain/Portugal Region as "Slice of Lime Babe" of the Bodacious Brickhouse Babes.
Saute onion in oil for 7 minutes.
Add garlic and ham and saute for 5 minutes.
Add beans,salt,pepper,and cilantro.
Saute 5 minutes.
Beat eggs and pour into pan.
Cover and simmer 7 minutes or 'til top sets.
Cut into wedges and serve.