Portobello " Pizzas " With Tomato Bruschetta
ImPat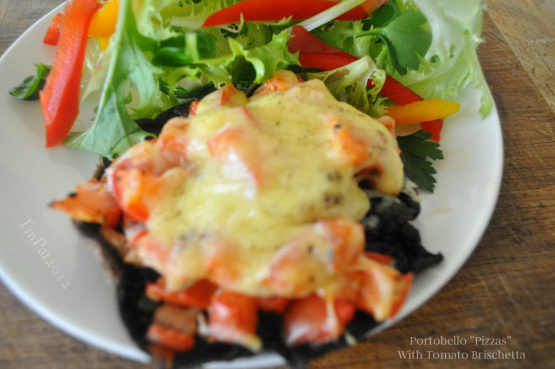 Meaty portobello mushrooms make great "crusts" for individual pizzas. Jarred bruschetta makes an easy topping, but experiment with whatever you like on your pizza. This recipe doubles or triples easily. Enjoy!

Top Review by ImPat
I made 2 "Pizzas" one each for myself and the DM and served with a salad for a light lunch. The only change I made for to add some finely diced red onion to the tomato and used for than the recipe specified and we both thoroughly enjoyed. Thank you Nif made for Went To Market tag game.
Preheat oven to 350°F Remove the mushroom stems and scrape the gills out with a spoon. Stir the garlic into the oil and brush it all over both sides of the mushroom caps.
Place the mushrooms bowl-side-up on a baking sheet and bake for 8 - 10 minutes, or until tender. Take the mushrooms out of the oven and over up to 450°F.
Top mushrooms with bruschetta and sprinkle with cheese. Bake for 5-10 minutes, until the cheese melts.