katew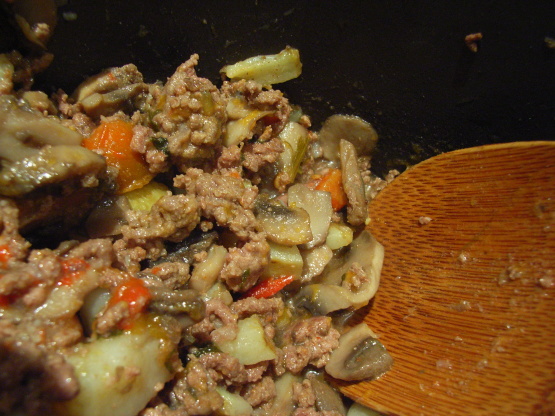 This is an addaption of a recipe I found in a magazine. It makes a wonderful, warming dish on a cold winter night.

Made this for the Aussie/NZ #83 recipe swap and oh what a delicious and comfy recipe for a cold winters day! I used white button mushrooms and cremini mushrooms along with about two stalks of celery. Definately a keeper. DH could only go yummmm. Served some French bread along the side.
In a large resealable plastic bag, combine the flour, garlic, salt and pepper. Add beef, a few pieces at a time and shake to coat.
In a stock pot, heat oil. Add onion and celery and cook down until onion is soft and translucent.
Add beef to pot in batches and brown. Remove beef and set aside.
Add mushrooms to pot; saute until tender. Return beef to pot.
Add the wine, broth, thyme and rosemary, stirring to loosen browned bits from pan. Now add the red pepper flakes at this point.
Bring to a boil.
Reduce heat; cover and simmer for 2-1/2 to 3 hours or until beef is tender.
Combine cornstarch and water until smooth; gradually stir into stew.
Increase heat and bring to a boil, stirring for 2 minutes or until thickened.