ImPat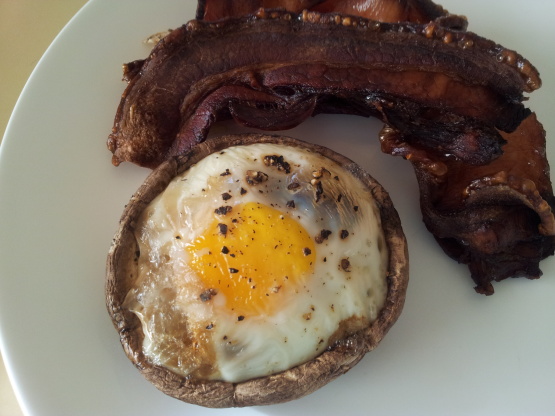 Here's looking at you in the morning. I adore porobellos and like to change up breakfast. I think this would also make a great sandwich. I can imagine it with cheese. This is a single serve recipe so it is easy to scale.

Top Review by ImPat
I have now made this 3 times the first time as per recipe, the second time I scrambled the eggs but wasn't so keen on the rosemary and basil which I sprinkled some on the mushroom cap and the rest as garnish to the egg and in the case of the scrambled eggs mixed with the egg before scrambling, as the directions don't state what to do with the basil and rosemary. The third time I just used cracked black pepper and served with bacon and enjoyed very much for a very filling breakfast. Thank you Ambervim, made for Name That Ingredient tag game.
Preheat oven to 325°F.
Place the mushroom on a silpat lined baking sheet.
Season with the herbs, salt and pepper then drizzle with a bit of olive oil.
Carefully crack an egg in the cup of the mushroom.
Bake for 10 minutes and continue baking until the egg is well set.