Portobello Croque Monsieur
Mulligan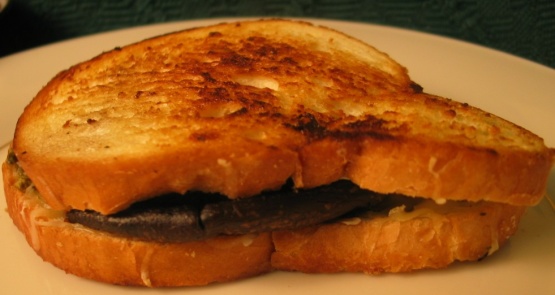 Vegetarian spin on the traditional dish. From Rick Rodgers posted for ZWT 5.

A yummy weekend breakfast which we greatly enjoyed and intend enjoying again and again. Since I was making this for just two of us, I dispensed with the nicety involved in step one: we were after flavour and didn't mind the black juice! But including this step would be great if presentation was important, and I DO like to know why such a step has been included, so thank you, Jamilah, for the information provided there. I otherwise made these exactly to the recipe and seriously wouldn't want to change a thing. I used my Recipe #366681 to which I added some thyme as I always love garlic and thyme with mushrooms. Made for Ali Baba's Babes for ZWT 5.
Using a dessert spoon, scrape out the black gills from the underside of the mushroom cap. Removing the gills reduces the amount of black juice the mushroom will exude.
Heat the oil in a medium nonstick skillet over medium heat. Add the mushroom, flat side down, and cook until the underside is browned, about 4 minutes. Turn the mushroom an cook until tender, about 2 minutes. Transfer to a plate and season with salt and pepper.
Wipe out the skillet with moist paper towels. Add the butter and melt over medium heat. Placed the mushroom cap on one slice of bread, spread with the pesto, and sprinkle with the cheese. Top with the remaining bread and place the sandwich in the skillet. Cook, turning once, until both sides of the sandwich are golden brown, about 5 minutes. Serve hot.