Portabello Mushroom Lasagna
Nif_H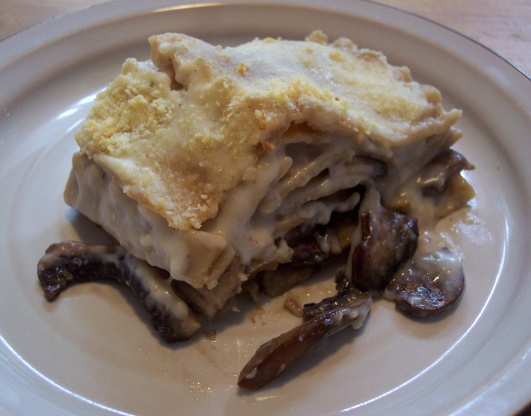 This is a classic Italian dish, but also commonly made in Provence. The French somehow make it a little more elegant. Portobello mushrooms have so much more flavor than button. This is a good substantial meal for a vegetarian but can also be served as a side dish with a roast. Adapted from Barefoot Contessa at Home cookbook. Enjoy!

Top Review by Nif_H
Yummy! I played around with this recipe quite a bit to make it healthy and it was good. I used 1% milk, 1/2 cup total olive oil (1/4 cup for sauteeing and 1/4 cup to make the roux), no butter and the rest was as listed. I also used whole wheat noodles as suggested. I cut the serving size in 1/2 and the total WW points ended up being 6, which is really good! I think that not using the butter cut way back on flavour, but I would have doubled the spices had I thought about that. That's why I didn't take any stars away - this recipe is very good but I kind of modified it like crazy! I do recommend it for sure! Made for Newest Zaar Tag. Thanks! :)
Preheat oven to 375*F.
Bring a large pot of water to a boil with 1 tbls. salt and a splash of oil. Add the lasagna noodles and cook for 10 minutes, stirring occasionally. Drain and set aside.
To make the white sauce, bring the milk to a simmer in a large saucepan. Set aside.
Melt 8 tbls.(1 stick) butter in a large saucepan. Add the flour and cook for 1 minute over low heat, stirring constantly with a wooden spoon. Pour the hot milk into the butter/flour mixture all at once. Add 1 tbls. salt, pepper, nutmeg, and cook over medium low heat, stirring first with the wooden spoon and then with a whisk, for about 3-5 minutes, until thick. Set aside off the heat.
Separate the mushroom stems from the caps and discard the stems(save for another use or for making stock). Slice the caps 1/4" thick. Heat 2 tbls. of oil and 2 tbls. of butter in a large 12" saute pan. When the butter melts, add half the mushrooms, and sprinkle with salt. Cook over medium heat for about 5 minutes, until the mushrooms are tender and they release some of their juices. If they become too dry, add a little more oil. Toss occasionally to make sure the mushrooms cook evenly. Repeat with the remaining mushrooms and set all the mushrooms aside.
To assemble, spread some of the sauce in the bottom of an 8x12" baking dish. Arrange a layer of noodles on top, then more sauce, then 1/3 of the mushrooms and 1/4 cup grated Parmesan cheese. Repeat two more times, layering noodles, sauce, mushrooms and Parmesan cheese. Top with a final layer of noodles and sauce, and sprinkle with the remaining Parmesan cheese.
Bake the lasagna for 45 minutes, or until the top is browned and the sauce is bubbly and hot. Allow to sit at room temperature for about 15 minutes. Serve hot. Enjoy!
Note: To make ahead, assemble the lasagna and keep it refrigerated until ready to serve. Bake for an additional 10 minutes, until browned and bubbly.