Portabellas and Spinach With Sesame Dressing
jenne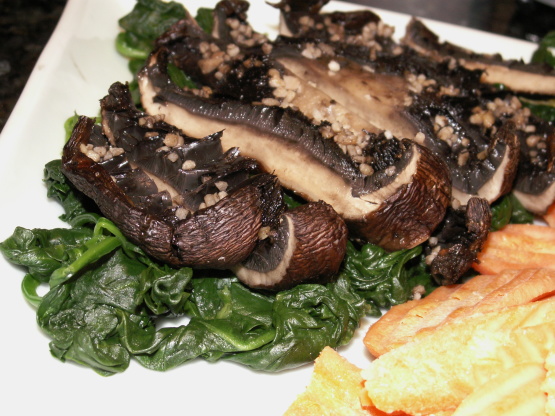 From Jan '07 Vegetarian Times Magazine. This dish is simple yet very tasty. I especially like the dressing. The recipe gives directions for roasting portobellos in the oven, but personally I love them grilled on the bbq. I added crushed garlic to the portobellos, which is why it is listed as an optional ingredient. This looks beautiful plated on a platter and has the appearance that you really slaved away in the kitchen. Served at a dinner party and it was enjoyed by veggies and meat eaters alike.
To make sesame dressing: Blend all of the ingredients in a blender until smooth. Set aside.
To make roasted portobellos: Preheat the oven to 400 degrees.
Coat baking sheet with cooking spray.
Place mushrooms on prepared baking sheet.
Brush with oil and sprinkle with crushed garlic (if using).
Bake 20 minutes.
Cool and slice.
Heat 2 Tbsp of water and 2 bags spinach in a large pot over high heat.
Cover and steam 2 to 3 minutes or until wilted. Repeat with remaining spinach. Cool, then squeeze out liquid.
Either toss with mushrooms and dressing or layer mushrooms on top of spinach and spoon dressing on top.
Sprinkle with sesame seeds and serve.