luvmybge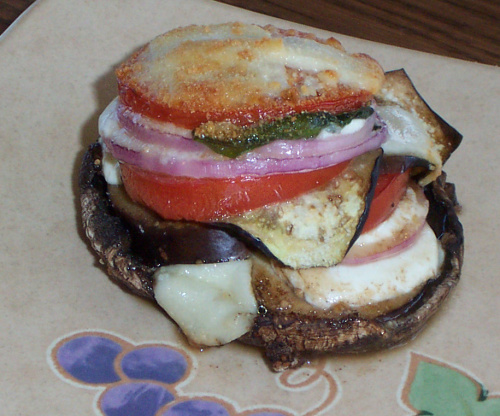 This is so delicious. Ingredients are approximate because everyone likes something different. Thin to me is too thin for others. So please just use your judgment according to your own taste. You are going to love this!

These are great! Fun to put together, and all of the veggies really come together with the basil and cheeses. I used zucchini sprinkled with some garlic powder. Thanks for sharing!
Scrape out the dark gills on the underside of each mushroom.
Rinse lightly under water and wipe with paper towel.
Thinly slice the eggplant and sprinkle with garlic salt.
Put the mushrooms in an oiled baking dish.
Drizzle with a few sprinkles of olive oil and balsamic vinegar.
Top with a couple eggplant slices.
Add a basil leaf.
Add mozzarella slice.
Add a slice of red onion.
Add a basil leaf.
Add a slice of tomato.
Add a basil leaf.
Repeat layers and top with Asiago cheese.
At this point I cut a wooden skewer in half and poke it down the center of each mushroom stack to hold them in place.
Drizzle a bit of olive oil and balsamic vinegar (not a lot or it will sweat too much).
Bake in 400° for 20 minutes.