Portabella, Red Onion and Chevre Pizza (Whole Wheat Crust Abm)
IngridH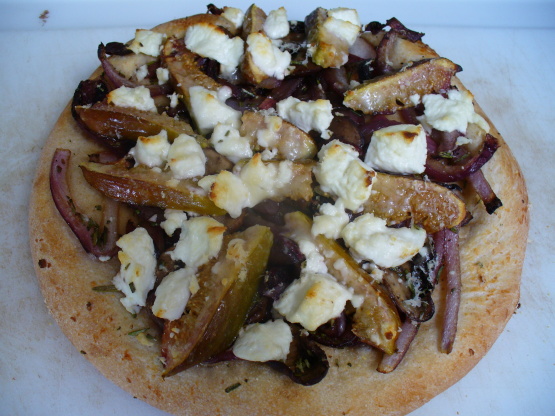 A healthier hearty pizza with a whole wheat crust made in bread machine.

Yum! I'm eating this pizza as I write, and it is just outstanding! When I went to start the dough, I found that the gremlins had only left me 1/2 cup of whole wheat flour, so I used that plus 2 1/2 cups bread flour. To compensate, I dropped the yeast to 2 1/4 teaspoons. As noted in the directions, I had to add a little water to get the dough to the right consistancy, today it took almost 2 tablespoons, but I added a teaspoon at a time, until it looked like a nice, smooth ball. Beautiful dough, it was so easy to work with! Today I was cooking for one, so I only rolled out half of the dough to make a smaller pizza. I don't have the same kind of pan that you do, I was baking on a pizza stone, so I sprinkled cornmeal on the back of a sheet pan, and assembled my pizza there before sliding it onto the preheated stone. I got a nice, chewy, thick crust with excellent flavor. I could use this recipe for plain flatbread, and be perfectly happy with it. For the toppings, I used two cremini mushrooms instead of the portobello (same 'shroom, just smaller), and in addition to the ingredients you called for, I added a sliced fig, fresh from the garden. I loved all of it! The rosemary is a nice background flavor that complements the cheeses and vegetables; the fig gave a really nice sweet note. Coming out of the oven, this was just beautiful- the edges of the goat cheese were lightly browned, and the crust was perfectly golden- crispy on the outside, and chewy on the inside. I always thought pizza was a hassle to make at home, but I will definitely make this one again. Thanks for posting a wonderful recipe!
For crust:.
Put ingredients into bread machine in order manufacturer calls for.
Select dough cycle. (Knead and first rise only) Add more water, a teaspoon at a time, if needed, to make dough form a smooth ball.
After machine finishes, remove dough and roll out on a lightly floured surface, to a circle, to fit 15" pizza pan. Spray pan and put crust on it. ( I have great success with Airbake Pizza Pan).
Meanwhile, heat 2 tbls. olive oil in skillet and saute onion and mushroom, with rosemary, until onions are soft. Stir in salt and pepper, and remove from heat and cool.
Drain off liquid and save for use in soup or pasta sauce.
To make pizza:.
Preheat oven to 425°F.
Brush crust with remaining 2 tbls. oil. Spread mushrooms and onions over crust. Sprinkle with cheeses.
Bake for 15 to 20 minutes, or until crust is deep brown and topping is bubbling hot.