jonesies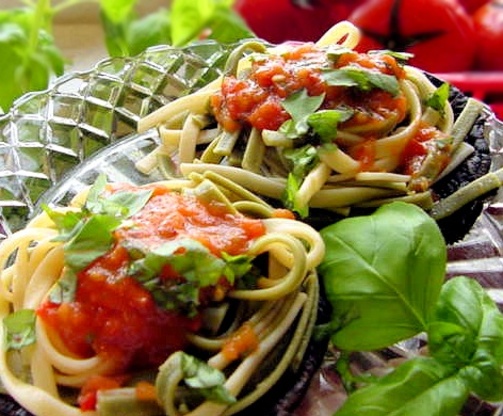 A different way to serve portobello mushrooms...filled with pasta! A recipe for the grill. Taken from BH&G. Note: the gills on the underside of the mushroom caps can discolor the other ingredients in this recipe, that's the reasoning behind scraping them away with a spoon. Updated: FYI, I "grilled" the mushrooms and romatoes on my George Foreman and they came out fantastic...this is now officially an "any season" recipe!

This was a really great recipe that had good flavor with such simple ingredients. I used an extra tomato for my sauce but left all the other ingredients the same, and it turned out really good. Using the mushroom as a bowl looks nice if you are serving company or worried about your presentation, but we found that when eating them, the mushroom on the bottom wasn't too easy to eat. I have made them again, slicing the grilled portabellas into strips and serving over the pasta and sauce, which worked great for us. Thanks for posting, this is soooo simple and delicious!
Using a teaspoon, gently scrape gills out of the bottom of the mushroom caps.
Lightly rinse caps.
Pat dry with paper towels.
Cut tomatoes in half; remove seeds and stem.
Brush top and underside of the mushrooms and all sides of tomatoes with the 3 tablespoons of olive oil.
Sprinkle the mushrooms and tomatoes lightly with salt and pepper.
For a charcoal grill, grill mushroom caps and tomato halves, cut sides up, on the rack of an uncovered grill directly over medium coals for 6 to 8 minutes or until tender, turning once halfway through cooking.
For a gas grill, preheat grill, reduce heat to medium and place mushroom caps and tomato halves on the grill rack over heat, cover and grill as above.
Remove vegetables from grill.
Cook pasta according to package directions.
Drain; return to pot.
For dressing, coarsely chop the grilled tomatoes.
In a blender or food processor combine the tomatoes, the 1/4 cup olive oil, lemon juice, the 1 tsp oregano, 1/2 tsp salt and 1/2 tsp pepper.
Cover and blend or process until smooth.
Drizzle pasta with 2 tbsp of the dressing.
Keep warm.
To serve, place mushroom caps on serving plates.
Divide pasta among mushrooms.
Drizzle with remaining dressing.
Sprinkle with snipped basil.