Parsley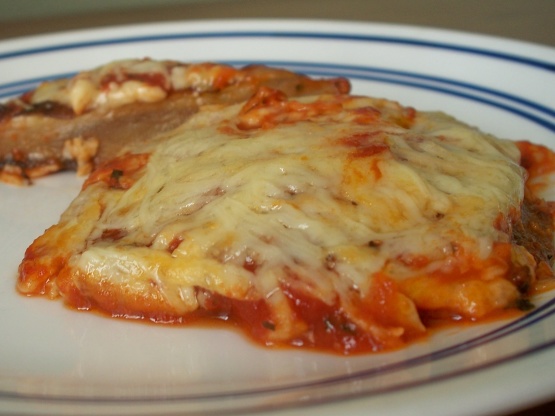 This was adapted from Everyday Italian. Giada's mother is a vegetarian and this is one of her favorites!

These were so simple so prepare to be rewarded with a whole lot of flavor! I sprayed them with pam & grilled them on my George Foreman Grill cuz it was rainy outside, about five minutes total. I used my sunday gravy that I had leftover & made as directed. Fabulous recipe, Sharon123. Will most definitely be repeating this one.
Place a grill pan over medium-high heat or preheat a gas or charcoal grill.
Drizzle 3 tablespoons of olive oil over both sides of the mushrooms, rubbing it in good. Sprinkle the mushrooms with salt and pepper. Brush olive oil on the grill to prevent the mushrooms from sticking. Grill until the mushrooms are heated through and tender, about 5 minutes each side.
Preheat the oven to 400*F.
Spread 1/2 cup of the marinara sauce on the bottom of a 9"x13" baking dish. Place the grilled mushrooms on top of the marinara sauce and top with the remaining marinara sauce. Sprinkle with the mozzarella and Parmesan cheeses and top with the butter pieces. Bake until the cheese melts and the top is golden, about 15 minutes. Serve and enjoy!