Rita1652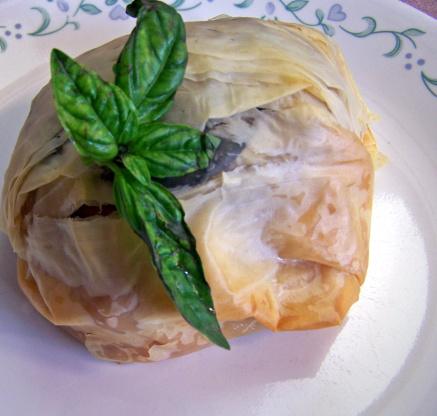 Created for RSC #6. The ingredients of the contest just called out for this recipe. Makes a great appetizer, very impressive. If you don't have parchment paper you can use silver foil that has been sprayed with a bit of olive oil.

This is a very impressive meal!!! I do suggest to grill the chicken and mushrooms (gills removed for appearance) right on the grill not a tray as directed for more flavor. As for the tomatoes I did not cook before layering them into the napoleon. I did add a sliced onions to the marinade and grilled them as well. To the marinade (which can be cut back by 1/2) I added dried herbs, pepper flakes, salt and pepper and placed all into a ziplock storage bag.
Combine the 3/4 cup olive oil, balsamic vinegar, white wine and garlic in a large bowl.
Add the mushroom caps, chicken breasts and tomato slices, tossing to coat.
Cover and marinate for 30 minutes.
Preheat the grill to medium heat.
Remove the mushrooms, chicken breasts and tomatoes, and discard the marinade.
Place the mushrooms on a tray covered in parchment paper.
Grill until tender.
Remove to a plate.
Place the tomatoes on a tray covered in parchment paper (can used the same tray).
Grill for only 1 minute on each side or the tomatoes will fall apart.
Remove to a plate.
Place the chicken breasts on the tray.
Grill for two minutes on each side.
Preheat the oven to 375 degrees F.
Layer one mushroom cap (stem side up), one chicken breast, one slice of tomato, one 2 basil leaves, another tomato slice on top, and them cover with one mushroom cap, stem side down.
Take one sheet of phyllo dough, brush with olive oil, repeat with two more sheets.
Wrap the 3 sheets of dough (all three at once) around the mushroom "sandwich.
"
Place this seam side down on a baking sheet covered in parchment paper, making sure the ends are tucked underneath.
Brush the top and sides with olive oil.
Repeat this with the other 3 sandwiches, using three sheets of phyllo dough per sandwich.
Bake for 20 minutes or until golden brown.