Portabella Mushrooms Stuffed With Chicken
PetsRus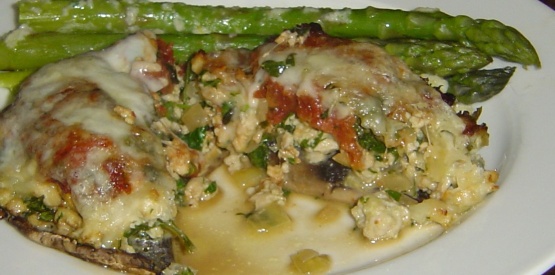 I had to come up with something for the contest so this is it.
Clean portabello mushrooms, remove stem and scrape inside to remove brown part.
Put mushrooms in a greased 13inch x 11 inch pan, I use cooking spray.
Brush inside mushroom caps with 1 tablespoon of olive oil.
Brown ground chicken in 1 tablespoon of olive oil, add spices, remove from pan and cool.
In the same frying pan add white wine, spinach and garlic scraping up the bits left from the chicken.
Cook over medium heat for about 5 minutes til spinach is wilted.
Cool and add to chicken.
Mix well and put a heaping spoonful onto each mushroom cap.
Pour tomato sauce over the mushrooms.
Sprinkle cheese on top.
Bake uncovered for 25 minutes in 350 degree oven.