Portabella Mushroom Caviar
karen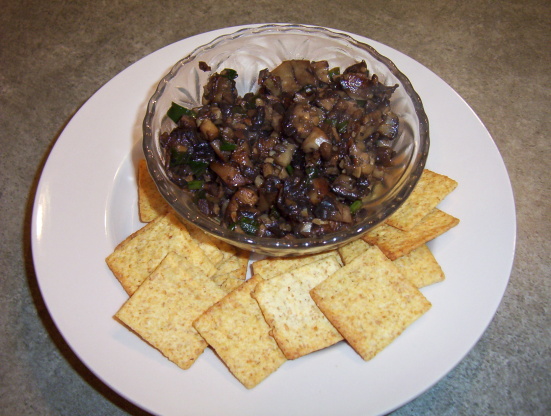 This makes a great spread for toast, pita crisps, zucchini rounds, or endive! From Great Good Food! Russian in origin.

Excellent 'dip' with a wonderful balance of flavours. Used fresh thyme from my garden and an expensive balsamic vinegar. Portabella mushrooms were on sale, so I made this for Friday night drinks at work. I'm considered the 'Queen of Dips' at work and this reinforced my reputation. Thanks!
In a large saucepan over medium heat, warm up 1 teaspoons of olive oil and saute the green onion for 2 minutes. Set aside.
Heat the remaining oil. Add mushrooms, garlic, and thyme; saute until tender. Don't overcrowd the pan, or mushrooms will be poached. Work in 2 batches.
Move the green onions and mushrooms to a food processor. Use the pulse button, and process until coarsely chopped(not mushy!). Don't overprocess.
Return the mushrooms to the pan. Add lemon juice, vinegar, and pepper. Saute over medium high heat until the liquid has evaporated, 1-2 minutes.
Serve in a small crock as a spread for toast, pita crisps, veggies, lettuce, etc. Enjoy!