Portabella Mushroom Bruschetta
Prep 15 mins
Cook 20 mins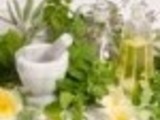 This is a Bruschetta with a change of pace from the everyday.It really is worth making. You can prepare the mushrooms and tomato relish ahead of time and reheat the mushrooms just before serving.
Directions
Toast bread in 350°F oven until golden brown, about 5 minutes.
Rub lightly with garlic clove while still warm.
Coarsely chop the mushrooms .
In a large skillet heat 2 tablespoons oil over moderate heat until hot but not smoking and cook mushrooms until softened, then add shallots and garlic stirring, until all liquid mushrooms give off is evaporated, about 5 minutes. Season with salt and pepper. Remove skillet from heat. Keep mushrooms warm, covered.
This can be made ahead,refrigerated and reheated at serving time.
Tomato Relish:.
Quarter tomatoes; combine with red onion, basil, vinegar, olive oil. Season, to taste, and let marinate for 15 minutes.
Top toasted bread with Sauteed mushrooms, tomato relish, shaved parmesan. Garnish with basil.
Reviews
Most Helpful
i made this recipe awhile back and forgot to review it! was good.. i added some mozarella cheese, as i love cheese!!!! will make again, thanks!
Wow - this was just great! The tomato relish was terrific and went very well with the mushrooms. I left out the shallots and onions, otherwise made just as specified. Loved this dish - thanks for posting the recipe! Made for the Best of 2008 event

Oh my goodness, this was so good! I actually had it for breakfast this morning and was so pleased! Instead of shallots I used red onion, but otherwise followed the recipe. Well, I did half it. Thanks so much Sage!