Portabella Mushroom and Dried Tomato Bruschetta
CandyTX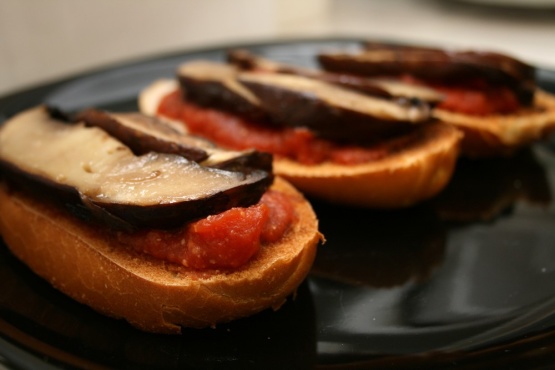 Courtesy of Gourmet Magazine found on Food Network.

The directions mention garlic, but not in the ingredients or where to add it. I added it to the sauce. I also used pureed tomatoes and didn't use the 2nd bit of olive oil and that worked just fine. The vinegar in this gives it a nice little bite. I whipped this up in 15 minutes flat for a quick lunch today. Yum!
In a small saucepan simmer tomatoes in water, uncovered, until tender, about 10 minutes.
In a blender puree tomatoes, cooking liquid and vinegar until smooth and season with salt and pepper.
Cut mushrooms into 1/4" thick slices and mince garlic.
In a large skillet heat 2 Tbs. oil over moderate heat until hot but no smoking and cook mushrooms and garlic with salt and pepper, to taste, stirring, until liquid mushrooms give off is evaporated, about 5 minutes.
Remove skillet from heat and toss mushrooms with remaining Tbs. oil. Keep mushrooms warm, covered.
Toast bread and spread with tomato puree. Top with mushrooms.