Portabella "cheese Steaks"
Bergy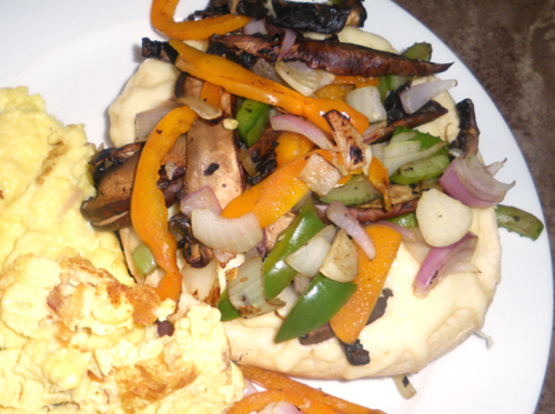 This is one of my favorite lunches.

Top Review by Bergy
Definitely 5 star. I seved this for Sunday Brunch along with 2 scrambled eggs - Wonderful. I used lite Harvarti cheese and cut back with the amount. I couldn't roll & wrap it because the pita puffed up so much. Lovely combination of veggies - A do again recipe for sure
Preheat oven to 400 degrees F.
Heat 1 Tbs. olive oil over medium-high heat in a 12-inch skillet until hot.
Remove mushroom stems and slice mushrooms into 1/4 inch slices.
Cook in skillet until tender and browned, about 10 minutes, stirring occasionally. Transfer to a bowl and set aside.
In the same skillet, heat remaining 1 Tbs. olive oil over medium heat until hot.
Add bell peppers, onions, salt, pepper, and water.
Cook, stirring frequently, until vegetables are tender and golden, about 15 minutes.
Stir in vinegar; remove from heat.
Gently stir in sliced mushrooms; set aside.
Place pitas on a large cookie sheet; sprinkle with mozzarella cheese. Heat pitas until cheese is melted, about 5 minutes.
Evenly distribute vegetables and mushrooms on the pitas; roll each pita into a cone and tightly wrap the bottom half of each with foil to hold shape & prevent leakage.