Portabella and Zucchini Tacos
Ms B.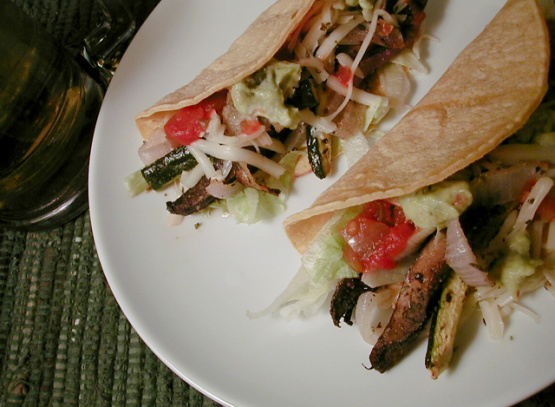 Meatiness without the meat!

Top Review by Ms B.
These tacos were great. I used pepper jack cheese and my homemade canned salsa and liked the contrast of the sweet roasted veggies with the spicy heat. I also added the optional guacamole, as that is one of my most favorite things on earth. LOL One taco was more than filling for me. I am considering using the leftover roasted veggies on pasta for a meal later in the week.
Preheat oven to 425°F On a large rimmed baking sheet, combine mushrooms, water, 1 teaspoon oregano, 1 tablespoon oil, and salt & pepper to taste. On another rimmed baking sheet, toss the zucchini & onions with the remaining oregano & oil; season with salt & pepper.
Roast, tossing occasionally, until veggies are browned and fork-tender, 25-30 minutes. Keep an eye on them - the zucchini & onions will be done sooner than the mushrooms.
When roasting is almost finished, heat a small skillet over medium high heat and warm tortillas briefly on each side. This goes very quickly - you want them a bit browned but still nice and soft. Wrap warm tortillas in a clean kitchen towel until serving time.
To serve, pile on the filling and toppings as you wish!