Port Wine Spinach Salad With Sweet and Spicy Pecans
Rita1652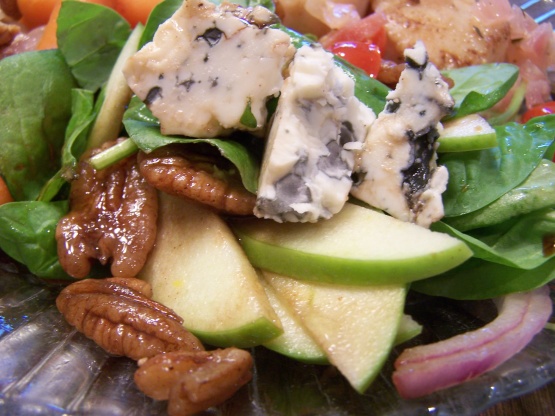 Originally created for RSC #10. Nuts and dressing may be prepared ahead of time. You can use all balsamic vinegar for the dressing and skip the lemon, if you desire. If you want to take the bite out of the onions or shallots, you can let them sit in the dressing for about half an hour before serving.

This is a delicious salad that I've come back to again and again over the years. It's great to make for company since it's easy yet comes off as something you'd get at a nice restaurant. I usually leave out the blue cheese, but that's jut a personal preference. Thanks so much for posting!
To make dressing, reduce port wine to 3 tablespoons.
Transfer port syrup to another container, and whisk in balsamic vinegar, lemon juice, and olive oil. Dressing may be made in advance, and re-whisked before serving.
Bring water to a boil in a medium pot. Using a strainer or sieve, dip nuts in boiling water for one minute (this removes some of the bitterness).
Transfer nuts to a bowl and immediately sprinkle with sugar. Mix until all of the sugar is melted.
Heat canola oil on medium high heat in a nonstick pan. Sauté nuts for a few minutes. The nuts will become sort of candied.
Scatter nuts on a plate and sprinkle with spices. Toss to coast. Stir occasionally as nuts are cooling. Nuts may be kept for up to one week.
Toss spinach with dressing, and arrange apples, red onions, nuts, and blue cheese over the salad.