Tisme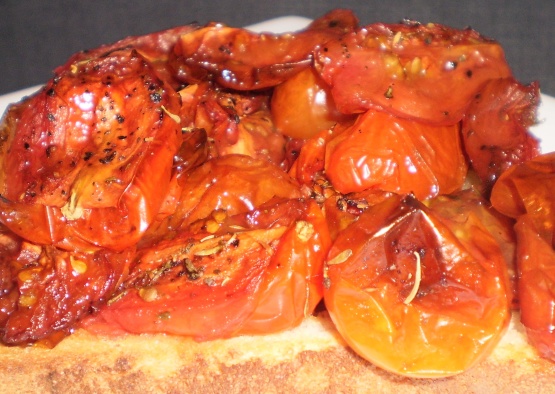 This is one we used to do at work for functions. It's so simple, and really nice. Really, all you do is allow 1 roma tomato per person, about 1/2 inch of port around them and 1 teaspoon sugar per half, and do as many as you need.

Top Review by Tisme
Ewwwwww. Jan, I really loved this recipe.
Sweet, and rich yet with a little acid taste....... so wonderful!!!
The only change I made was to use smaller roma's and cherry tomatoes combined and just added a little added dried Italian herbs.
Otherwise the recipe was followed as per the recipe, and it was wonderful!
DS is taking the cold tomatoes to have on crusket's tomorrow for lunch, as he is on a health kick!!
Wonderful recipe Jan, thanks so much for posting!
Heat your oven to 150c.
Cut the tomatoes in half lengthways, place them in a baking dish, cut side up.
Pour the port over the tomatoes, sprinkle 1 teaspoon brown sugar over each half, then bake until tomatoes are caramelized and port is syrupy-about 1 hour.