Port Cherry Topping for Cheesecake
heidi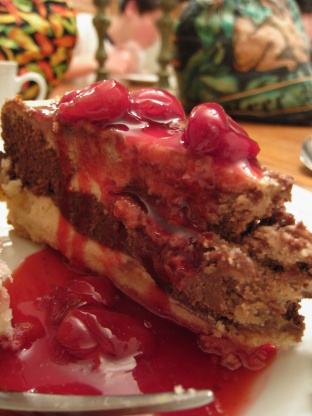 the BEST topping for a plain or chocolate cheesecake. Tastes superb. Found this somewhere on the internet. This makes enough for almost 2 cheesecakes.

Yum! I really enjoyed this. Not too sweet, not too tart. Great alternative to the canned cherry pie filling that you usually see on cheesecakes. I served this over New York Cheesecake (recipe #57205) and it was a big hit. I did wish it were slightly thicker. Next time I might add a little more cornstarch. Thanks for the recipe.
Combine port, 1/2 cup sugar, cherries, and vanilla in a large saucepan; bring to a boil.
Cook 5 minutes or until cherries are thawed and mixture is syrupy.
Combine juice, cornstarch, and 4 teaspoons water, stirring with a whisk until well blended.
Stir cornstarch mixture into cherry mixture, bring to a boil. Reduce heat; simmer 3 minutes or until mixture is slightly thickened and shiny.
Remove from heat; cool to room temperature.
Cover and chill.
Serve over cheesecake.