Derf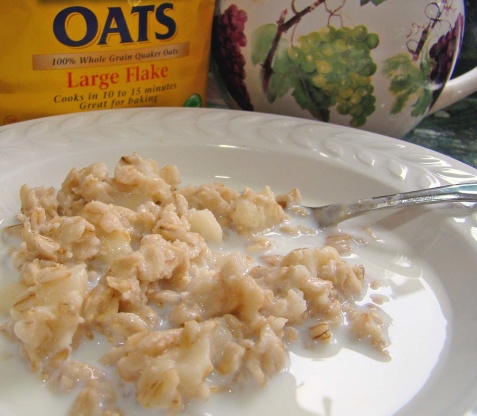 A recipe we made up while bicycle touring but it would be good while camping or at home too. The apples help make the porridge more interesting when you don't have brown sugar to hand. We have tried adding bananas too but they are best just sliced on top of the porridge, not cooked along with the oats.

Top Review by Derf
mmm so warming and sweet with the apples, who needs sugar!! Mine took a little longer to cook cus I like to use old fashioned large flake oats. Just made half a recipe and it was perfect for the two of us. Sooo easy and Yummy!! Versatile too, I can image using other fruits and will probably add dried cranberries or raisens too. Lovely fall recipe, thanks for posting!
Put the water in a large saucepan and boil.
When boiling, pour in the porridge and stir for 1-2 minutes.
At this point you should really turn the heat down while stirring but if your stove does not simmer so well, then just lift the pot away from the heat for a few seconds periodically.
After a minute, put in the apple slices and continue to stir for a further 30-45 seconds.
The porridge should be thickening up by this point. If not, keep it on the heat a little longer.
Take the pot off the heat, cover the porridge and set aside for a couple minutes.
Serve, with any extras you might have to hand like a bit of brown sugar if you are lucky or some honey drizzled over.
You could also replace up to half of the water with milk while you are cooking the porridge for a creamier version.