Pork Yuk Sung (Pork in Lettuce Leaves)
Bergy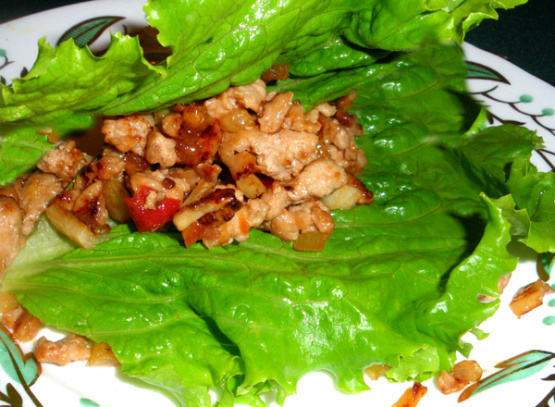 Minced Pork served in lettuce leaves as a starter to a Chinese meal. Very, very nice and yummy!

Wonderful! Made this for Zaar Chef Alphabet Soup Tag game Jan-June 2013 and this was a hit. I followed the instructions except for adding some garlic chili paste (for some zing) and some bean sprouts and a little more onion. Delicious and easy for a hot summer day!. Thank you for posting.
Best to use pork mince with a low fat content 3% if you can get it.
Slice the ginger (About 3cm peeled and sliced very finely).
Slice the garlic very finely.
Chop the spring onions.
Dice the celery into very small cubes.
Chop the water chestnuts, again into very small cubes. (5mm).
Put the above ingredients to one side.
Wash the lettuce, dry, and being careful not to tear the leaves, separate leaves keeping them whole. (You will need 4 leaves for four people as a starter).
Pat dry and put to one side.
In a small bowl mix together the soy sauce, oyster sauce, dry sherry and sugar. Do not leave out the sugar as it just won't be the same!
Heat the sesame oil in a non-stick frying pan on high heat. Add the garlic, ginger, and spring onions and fry until the garlic and ginger are aromatic.
Add the minced pork and cook until the pork is browned. Remove from the pan and set aside.
Add the water chestnuts, and celery to the frying pan and cook over a medium heat.
Then put the sauce mixture in the pan and stir.
Then put the pork back in the pan and continue to cook at medium heat until sauce is reduced and mixture becomes dryer and the pork is browned.
To Serve; Lay out a lettuce leaf and spoon a great big heap of the cooked mixture into the middle and fold into a wrap and eat immediately.