Pork With Soy Sauce and Sesame Glaze
Jewelies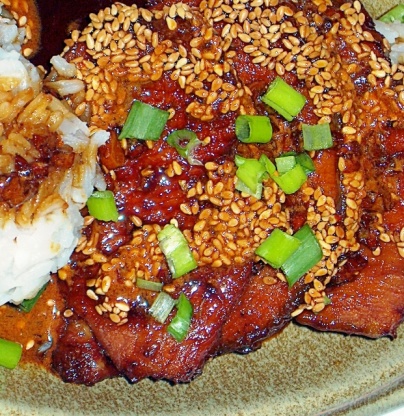 I got this recipe from a Thai step-by-step cookbook

We loved the sauce/glaze for this but did find there was quite a lot of sauce and unfortunately the pork stewed slightly in the sauce and toughened up. I would recommend marinating the pork for 30 minutes and then cooking on a rack - basting with the glaze as needed. I reduced the leftover sauce on the stove and drizzled it over our rice. A definite keeper that I will make again.
Trim fat from pork fillets and place them in a wide non-metallic dish.
Mix together the soy sauce, honey, garlic.
Spread this mixture over pork fillets, turning the meat to coat it evenly on both sides.
Lift the pork fillets into a roasting tin or a shallow ovenproof dish. Sprinkle the sesame seeds evenly over the meat.
Roast the pork in an oven preheated at 400°F for about 20 minutes, spooning juice over fillets from time to time. Cover loosely with foil to prevent over-browning, and roast for 15 minutes more until meat is cooked thoroughly.
Meanwhile, dip the onion slices in the flour, and shake off excess. Heat the oil and fry the onion rings until golden and crisp, turning occasionally. Serve the pork in slices with the fried onions on a bed of crisp salad.