Pork With Creamy Tarragon Wine Sauce
lazyme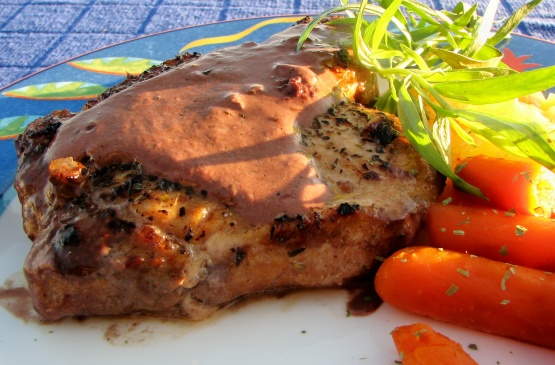 I came up with this recipe one night when it was my turn to cook and it ended up being a huge hit. It's so quick and easy that I have made it several times now. It also works well with chicken breasts. As a side dish, I usually serve it with some egg noodles and/or wilted spinach.

Top Review by lazyme
Yum! This was so quick and simple to throw together. I loved this - especially the sauce - but DH didn't like it as well as I did. I used a Cabernet and he didn't care for the flavor of the wine. I made this wih potatoes on the side, but will make it with noodles next time. The sauce would be very good with the noodles. Thanks for another winner Bakabeth.
Before starting, heat the oven up to 350 degrees and put the cream cheese out so it will soften a little.
Trim all fat off the pork chops. Pound thin to tenderize and sprinkle each side lightly with salt, pepper and italian seasoning.
Heat up a frying pan to medium high. Once warm, add olive oil and butter. Add garlic and sautee until lightly brown.
Place pork chops in center of pan and cook on one side until bottom is lightly brown and seared, about 2-3 minutes depending on thickness. Flip chops and cook for an additional minute or until cooked through fully. Be careful not to overcook.
Remove chops from pan. Add red wine and chicken broth and bring to a boil.
Add cream cheese to mixture and whisk in with a fork. Reduce heat and let simmer for 5 minutes. Season with salt and pepper to taste.
Put chops back into pan and place in the oven for 10 minutes.
Remove pan from oven and sprinkle with the tarragon, mixing thoroughly. Enjoy!