Pork with Artichokes and Mushrooms
Rita1652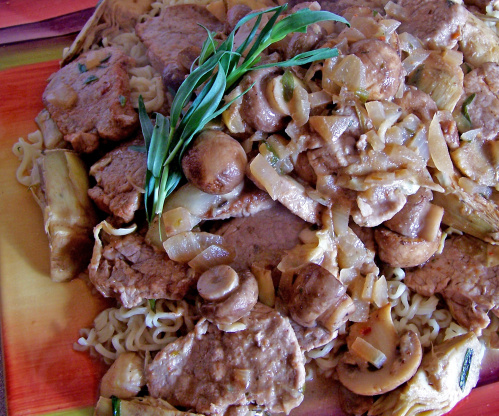 Enjoyed!! I used 10 ounces of bella`s the large ones I quartered and the medium ones I cut in half leaving the small ones whole. I used 2 teaspoon fresh tarragon. I did use the ramen noodles but I would have liked it more with a wider noodle. Garnished with fresh sprig of tarragon. The sauce was on the thin side. I did season the pork with seasoned salt and dusted with flour. Thanks!
Saute pork in 2 tablespoons butter until no longer pink.
Remove pork from pan, set aside.
In same pan, saute mushrooms and onions in 1 tablespoon butter until onions are lightly browned and mushrooms release their juices.
Add wine, artichokes and tarragon to mushrooms, and continue cooking until juices are reduced by half.
In small sauce pan, cook noodles according to package directions.
When noodles are done, drain (reserving liquid) and place on platter keeping them warm.
Add pork, sour cream, salt and pepper to mushroom/artichoke mixture, reduce heat to low and simmer all for about 5 minutes or until heated through.
Stir in Parmesan cheese.
If sauce is too thick, stir in some of the reserved liquid from the noodles to thin to desired consistency.
Spoon pork mixture over noodles.
Garnish platter with sprigs of cilantro.