Pork With a Parmesan Crust
-Sylvie-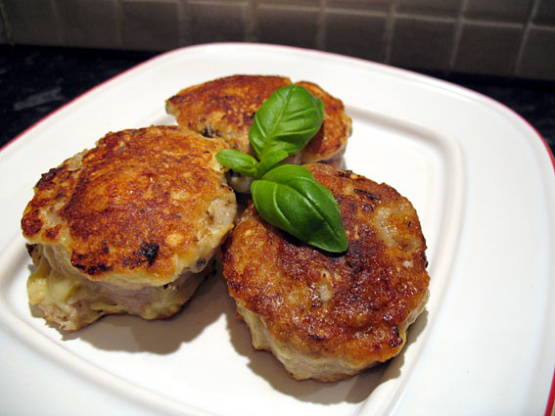 I got some outdoor bread medaillon of pork on offer the other day and found this recipe for pork fillet on www.marions-kochbuch.de. I have adjusted it to my liking and thought I'd share. It's easily doubled to feed more people.

This was just OK for us. The pork was very moist and tender, but I was hoping for more flavor. Perhaps adding some garlic powder to the coating would boost the flavor. I also needed to double the egg and cheese mix to coat my medallions. Thanks for posting!
Mix the parmesan with the beaten egg and set aside.
Place the medaillons or fillets between two sheets of cling film and using a meat tenderizer, rolling pin flatten them.
They nedd to be fairly thin. If you're using medaillons, like I did, you'll need to adjust the cooking times slightly as they are thicker and will take a little longer cooking.
Season to taste with salt and pepper on both sides and sprinkle with chopped rosemary or sage.
Dredge both sides in flour.
Heat the oil in a frying pan until quite hot, but not smoking.
Dredge the meat through the egg/parmesan mix, making sure that it sticks to both sides and immidiately transfer to the hot pan.
Fry on both sides until nice and golden, and nearly cooked through. This doesn't take long a few minutes either side.
Transfer to an oven proof dish and place in a preheated oven 120°C/250°F/Gas 1/2-1 for approximately 15-20 minutes.
The low temperature will allow them to rest while finishing to cook, resulting in a moist fillet.
These are good hot or cold.