Pork With A Blue Cheese Apple and Mustard Sauce
chia2160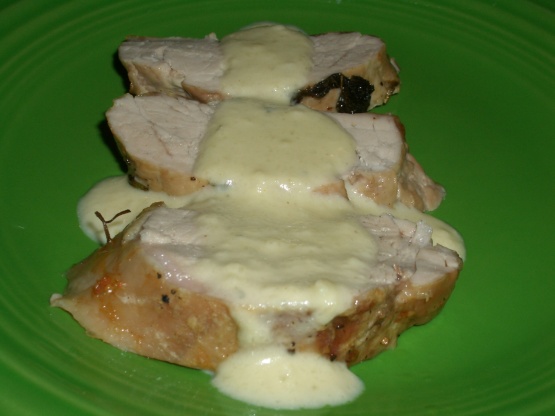 Keep some extra mustard and applesauce ready, depending on the saltiness of the cheese you use you might want to add some more. I buy the ready-made applesauce. If I do use fresh sage I like to use the pineapple sage that I grow in my garden. This is a simple but elegant dish and easy to double for dinner parties. It is from the Good Food magazine, I just changed it a bit to make it easier to put together.

i used pork cutlets for this dish, whick cooked up real quickly, but what makes this is the sauce! i used gorgonzola, chunky apple sauce, creole mustard and the combined flavor was unbelievably delicious! i never would have thought of this combination, thanks updated 6/6/10-- all these years later, still love the sauce. i used fresh sage and rosemary from the garden.
1 3⁄4 lbs pork fillets, approx divided in 4 pieces
salt and pepper

1

tablespoon butter

1

tablespoon oil

2

teaspoons dried sage or 3 tablespoons chopped fresh sage

4

ounces blue cheese, crumbled,i like blue stilton
3⁄4 cup cream

2

teaspoons coarse grain mustard, maybe some extra

2

tablespoons applesauce, smooth or chunky,maybe some extra
Trim the pork fillets from any fat, season with salt and pepper.
Melt the butter and oil in a frying pan, add the pork, brown on all sides, add the sage, turn down the heat and cook until almost done.
Time will depend on the thickness of the fillets.
While the pork is cooking mix together, the cream, cheese, mustard and applesauce.
When the pork is almost cooked, remove from the pan to a plate and keep warm.
Put all sauce ingredients in the frying pan, stir until the cheese has melted and you have a sauce with a nice consistency.
Now do a taste check, maybe you want to add more applesauce and/or mustard.
Serve the pork sliced with the sauce spooned over it.