Pork Vindaloo from Scratcheroo
moxie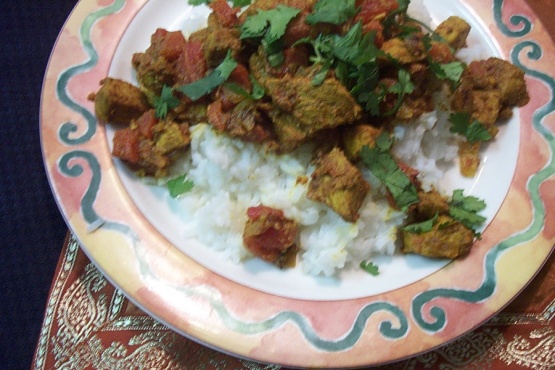 A delightful dish from southern India, this also lends itself very well to being prepared with cubed lamb or rabbit. (Prep time includes marinating time.)
Top Review by moxie
This recipe was very well-written, smelled delicious while grinding and cooking, and looked just beautiful. However, in my opinion, the amount of clove in the dish was overwhelming and almost medicinal-tasting. After tasting the dish as written, I added a 16-ounce can of tomato puree, which did cut the taste of the cloves to a better level. I am sorry not to have more postive things to say, but it was not a favorite here.
TO MAKE THE CURRY PASTE: In a spice or coffee mill grind the spices and ginger until very finely minced; turn out into a bowl and stir in the vinegar to make a smooth paste.
In a glass baking dish or non-reactive mixing bowl combine curry paste with the garlic and half of the onion.
Add the pork, turn to coat thoroughly and set aside to marinate for at least 30 minutes.
Heat the oil in a large skillet over low heat and gently sauté the remaining onion.
Drain the pork, reserving the marinade.
Turn up the heat and add the pork, a few cubes at a time, tossing until it is browned on all sides.
Sauté for 5 minutes, and then add the tomatoes and the reserved marinade.
Bring to a boil, reduce the heat and simmer for 5 additional minutes.
Serve over hot rice, garnished with cilantro or parsley.