Pork Tenderloin with Lemon Mustard Sauce - WW 5 Points
Pamela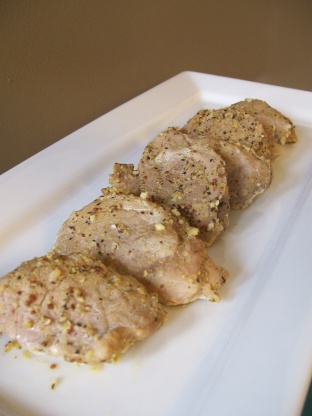 A very flavor dish without the calories. Great for those on the WW point diet. This recipe is 5 points per serving.

This totally did NOT taste like a 'diet' dinner. Just joined WW last week and let me tell you, this was the BEST meal so far. The pork was so tender. I've never cooked with Lemon Pepper seasoning before and it gave the pork such a wonderful flavor. I wasn't sure if both sides needed to be sprinkled with the seasioning, so I did anyway. I can't imagine it any other way. And the sauce that went over it was amazing. Just the perfect amount of mustard. I loved the taste of it with the pork. I just wish there was more sauce. PRIMO recipe. BTW, I typed this into WW recipe builder and it shot back 4 WW points per serving. I served this with a dinner salad. DH couldn't stop raving about it. I ate my 4 oz. and he ate the rest....YUMMY!! This is totally a keeper. Thanks!
Place pork pieces between two sheets of wax paper and flatten with a meat mallet.
Sprinkle each piece with lemon pepper.
Heat butter in a skillet and cook pork for 3 to 4 minutes on each side.
Place pork on heated platter and cover with alumunium foil; set aside.
Add lemon juice, Worcestershire sauce and mustard in skillet.
Cook until sauce is heated and pour over pork.
Serve immediately.