Pork Tenderloin With Hot Mustard Sauce
KPD123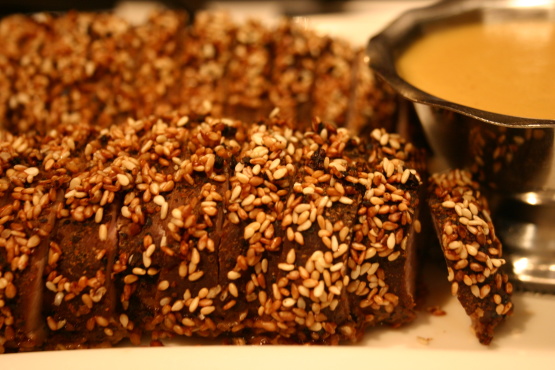 Love this recipe!! I got it from my mom. I always serve with roasted broccoli. Enjoy!

This is perfect, thank you very much!
Combine first 9 ingredients. Rub mixture all over pork. **Note: At this point, you could put pork in a large ziplock and marinate in the fridge until you are ready to use. Remember to let meat come to room temperature before roasting.
Place pork in a casserole sprayed with nonstick cooking spray or use a roasting pan. Sprinkle sesame seeds all over pork.
Bake pork at 400 degrees for 45 minutes or until internal temperature reaches 160 degrees. Remove pork from oven and let rest for 5 minutes.
For the sauce: combine horseradish, mustard and honey in a bowl. Microwave 1-2 minutes, just until sauce is heated through. If sauce is too strong or spicy, you can tame it down by adding more honey and a tablespoon of water.
Slice pork and serve with hot mustard sauce.