Pork Tenderloin with Hoisin
teresas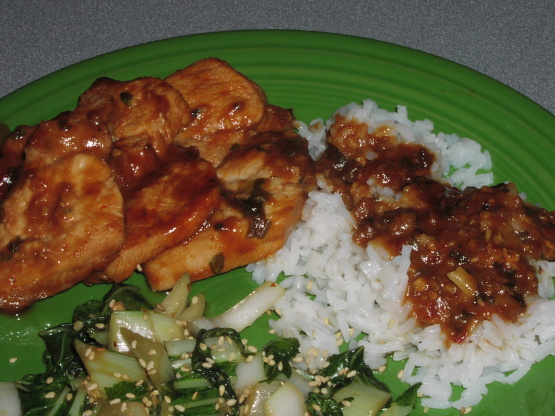 Another keeper from Bonnie Stern's HEARTSMART COOKING series. The pork is sauteed in the marinade with no extra fat. The sauce is delicious and we have enjoyed it with chicken breast and beef as well.
Cut pork into 1/4-inch slices.
(I also use sliced chicken breast or beef.) In a large bowl combine soy sauce, hoisin, rice wine, chili paste, ketchup, garlic, ginger, green onion and cilantro.
Add pork and toss in marinade.
Refrigerate for a few hours.
Heat large non-stick skillet over medium heat.
Cook pork with marinade for 7-10 minutes, turning occasionally.
Serve with sauteed greens OR stir-fried vegetables.