Pork Tenderloin With Fresh Pineapple Salsa
Nif_H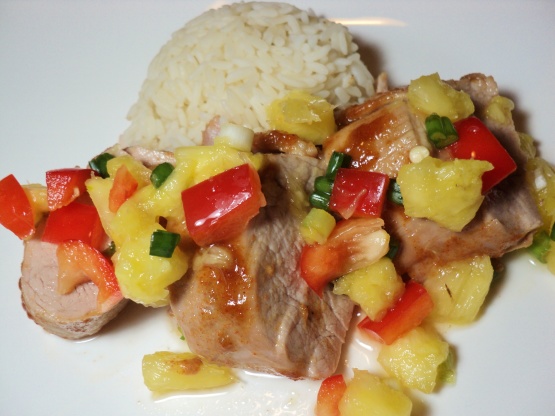 This is a somewhat tweaked version of a recipe I found in the 2007 Taste of Home The Busy Family Cookbook, & then it was reduced to serve 2 of us!

Top Review by Nif_H
This is just delicious! I liked the salsa the most but the pork was great too. We had this with rice so it could soak up the juice from the salsa. So good! I did cook the pork more than I usually do (oops!) but tenderloin is tender no matter how much you cook it so it really didn't matter. Made for 1, 2, 3 tag game. Thanks Syd! :)
Preheat oven to 450 degrees F, then put the pork tenderloin in a roasting pan.
In a small bowl, combine 2 tablespoons of the brown sugar with the Dijon mustard, paprika & ginger, then spread HALF of this mixture over the pork tenderloin, before baking uncovered for 15 minutes.
When the 15 minutes are up, spread the pork with the remaining brown sugar mixture & bake 15 to 20 minutes longer, or until a meat thermometer reads 145 degrees F, but if you're a traditionalist, you'll want the thermometer to read 160 degrees F!
Meanwhile, for the salsa, in a small mixing bowl, combine the bell pepper & onion with the last tablespoon of brown sugar, along with the cup of diced pineapple & pineapple juice.
When the pork comes out of the oven, let it stand briefly before slicing the meat & serving it with a generous portion of salsa.