Pork Tenderloin Towers on the Grill
Ms B.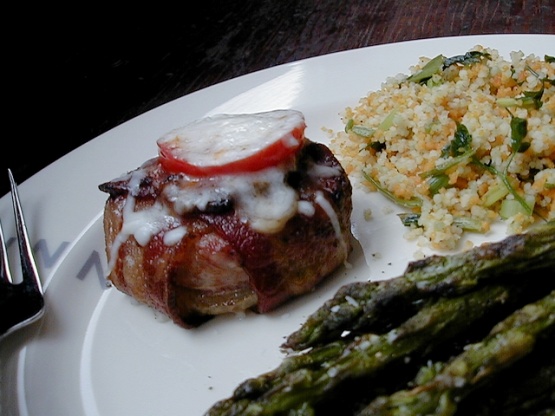 These are really not at all difficult, and they look so impressive. If you don't have a bbq grill, just broil them in the oven, but be careful not to get them too close to the flame. You don't want to burn these. From Southern Living, March 1986.

Excellent. The flavors went so well together. Due to weather, I cooked this as stated on my grill pan in the oven at 350 degrees and it turned out great. I did precook my bacon for 3 minutes in the microwave to make sure that it was cooked. Served this with wild rice and steamed broccoli. Thanks for sharing. Made for "Party" :)
Layer 2 slices bacon to form an X.
Place 1 slice of onion in center of bacon; top with 1 slice tenderloin.
Sprinkle with salt and pepper. B.
ring ends of bacon over tenderloin, and secure with a wooden pick.
Repeat procedure with remaining bacon, onion, and tenderloin.
Place meat on grill over medium heat, and grill 40 minutes, turning frequently.
Turn meat wooden pick side up; remove wooden picks.
Top each with a slice of tomato and cheese, and grill an additional 10 minutes.