Pork Tenderloin, the Best Ever
Kate F.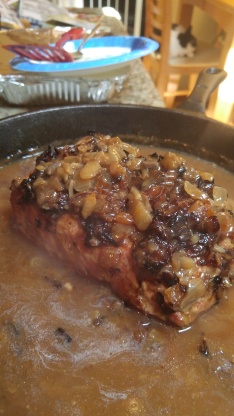 I have tried many recipes for pork tenderloin and this is the absolute best ever. It is so tender and juicy and great tasting. Hope you enjoy.

We love this dish! I can't bring myself to make pork tenderloin any other way. I make mashed potatoes on the side to go with the gravy. Delicious! I bet it would be good with skinless boneless chicken breasts as well. Thank you for posting my favorite pork recipe.
2 1⁄2 lbs pork tenderloin
1⁄2 teaspoon salt
1⁄8 teaspoon pepper

1 -2

tablespoon flour (to dredge Tenderloin)

1 -2

tablespoon olive oil

1

(40 g) package Lipton Onion Soup Mix

1

(10 3/4 ounce) can cream of mushroom soup

2

cups hot water
Pre-heat oven to 375 degrees F.
Trim as much of the fat off as you can.
Season with Salt& Pepper.
Roll tenderloin in flour and coat well.
Heat olive oil in cast iron skillet.
Brown the tenderloin on all sides.
Mix the soups together with the hot water.
Add the soups slowly to the roast allowing the onion pieces to rest on the top of the tenderloin as much as possible.
Cover and bake in oven for approximately 1 hour and 15 minutes or until the inner temperature reaches 170 degrees (well done).