Pork Tenderloin Stuffed With Brie and Mushrooms
momaphet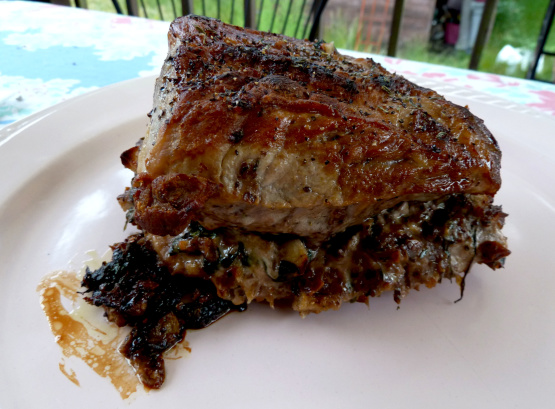 This recipe came in a little flyer from the Sask. Pork Assoc. and I don't want to lose it. I haven't made it yet but do plan to soon. It sounds so good I thought I would share it with you.

We enjoyed this pork tenderloin recipe very much. It was a bit tricky to tie up the tenderloin, but DH did a pretty fine job (I, however, would not have been able to do it without him). We made no modifications to the recipe, other than that I used all baby bella mushrooms. The pork was done perfectly and the stuffing was delicious. Thanks for posting. Made for ZWT6 Zingo.
.Using a sharp knife, cut each pork tenderloin lengthwise, be careful not to slice right through the bottom.
Open and flatten each loin and then set them aside.
Heat butter in a large skillet over medium heat.
Saute garlic, shallots and mushrooms.
Add the spinach and saute briefly.
Add the red wine and scrape up any browned bits.
Remove from heat and add Brie, apple, walnuts and thyme.
Season to taste with salt and pepper.
When it is cool enough to work with spoon 1/2 of the stuffing onto each loin. Fold over to enclose the stuffing. Tie to secure.
Brush very lightly with Canola oil.
Roast at 375F (190C) for 25-30 minute until a meat thermometer registers 155F (68C).
Remove from oven and tent loosely with foil. Let rest for 5 minutes.
Remove string and slice to serve.